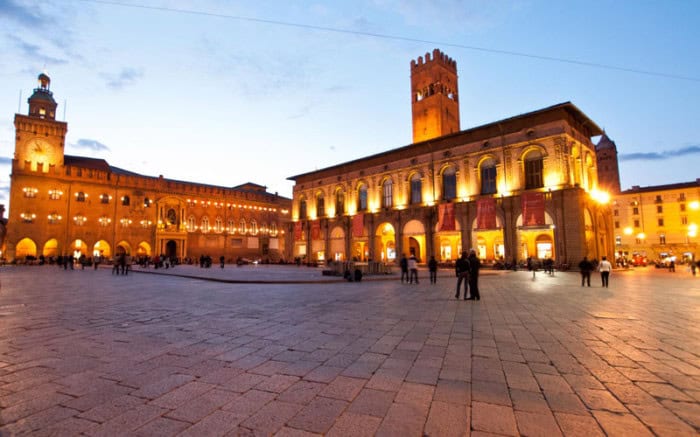 Bologna, a city to enjoy all year round!
Bologna is well known above all for its good and genuine food. The best Italian food comes from the region of Emilia-Romagna, of which Bologna is the capital. The city centre, within the circle of the central ring road, is medieval in the plan. At the end of the 13th century Bologna was Europe's fifth largest city and many towers were built ( nowadays over twenty towers remain of an original 200 or so) . The Palazzos and the houses facing the central Square "Piazza Maggiore" are usually of red brick; and also the roofs seen from above, appear red and ochre-coloured. The historical-medieval city centre is still well preserved, with an historic centre of 350 acres full of an Incredible Medieval, Renaissance, and Baroque architectures. Much of the charm of Bologna today, is given by the city's famous porticoes, often colonnades lining every road into the city centre. They offer some 38 kilometres of arcades and a lot of shops for everyone!
In addition to good foods are a lot of monuments, museums and local curiosities. During the Renaissance Bologna allowed women freedom to excel in the professions, and earn a university degree – rare elsewhere at the time. The University in Bologna was established in 1088.
Bologna is really enjoyable just for itself: there's always something happening, music, meeting, events; but also just cafés and bars scene, or just its convivial restaurants; They all make of Bologna one of the heartiest Italian cities. Not far and about half an hour, the "Motor Valley" and the possibility to drive "only" a Ferrari or "only" a Lamborghini! Nearby, pleasant and beautiful locations to celebrate your wedding Ceremony: Villas or elegant and renovated farmhouses, spacious gardens and romantic corners. And least but not last… homemade food and good wine to toast your celebration!