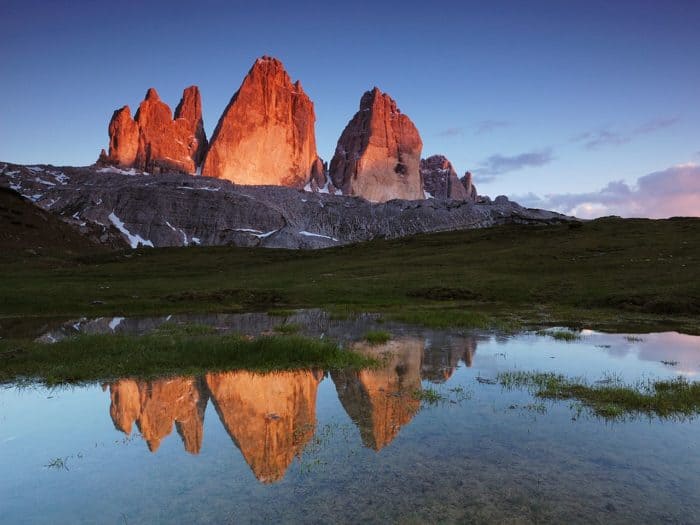 Dolomites
The Dolomites were proclaimed a UNESCO World Heritage Site in 2009 not only for being among the most spectacular mountain landscapes in the world, but also for the geological and historical vital role they portray in revealing the past of our planet. Made up of imposing silver towers that reach up from emerald green meadows to touch the sky and surrounded by a network of stunning mountain trails. This mountain region is rich in culture and enchanting beauty where traditions are maintained and nature is highly respected and preserved.
The ski resort of Three Peaks Dolomites is located in South Tyrol amidst the Unesco World Heritage Dolomites. It remains an undiscovered and uncrowded ski experience even after winning multiple awards. The ski runs are perfectly groomed and with an efficient system of man made snow, skiing is always guaranteed. Providing more than 100 km of slopes for all abilities and connecting 5 stunning mountains with enthralling views on all sides.
South Tyrol
The area is spotted by magnificent mountain lakes, and like the rest of this virtually unknown valley, the Braies Lake is quite breathtaking. Peaks, Pinnacles and towers rise out of the earth, the most famous of which are the Three Peaks of Lavaredo. Soft green meadows in Summer and expanses of white snow in Winter, not to underestimate Autumn with its golden colours or Spring with its carpets of flowers.
In Winter the ski slopes are perfectly maintained and offer possibilities for all levels of skin or snowboarding. It is Italy's number one destination for cross-country skiing with over 200km of tracks with spectacular views of the Dolomites.
In Summer the many valleys and peaks offer a variety of activities, from walking and trekking paths for every level, as well as mountain bike, horseback riding and rock climbing options. Every step you take leaves you spellbound by the majestic beauty that surrounds you.
San Candido/Innichen
San Candido is one of Italy's premier mountain resorts, situated in the Unesco Heritage Dolomite Mountains. Offering a wide range of both summer and winter activities, boasting first-class facilities and breathtaking hikes. The town is well-known for it's spectacular mountain views and for it's tempting shopping experiences. From exclusive boutiques, shoe stores, sport apparel and equipment, homewares and supermarkets with a wide variety of objects on sale. A shopping spree in San Candido is a unique experience.
It is the home of the most important Romanesque building of the whole alpine area; the Collegiate church of the 13th century. This town was frequented by Austrian emperors for it's beneficial thermal waters. San Candido is one of Italy's most important skiing resorts. In summer it is the start of a very popular cycling route which stretches over 45 km into Austria.