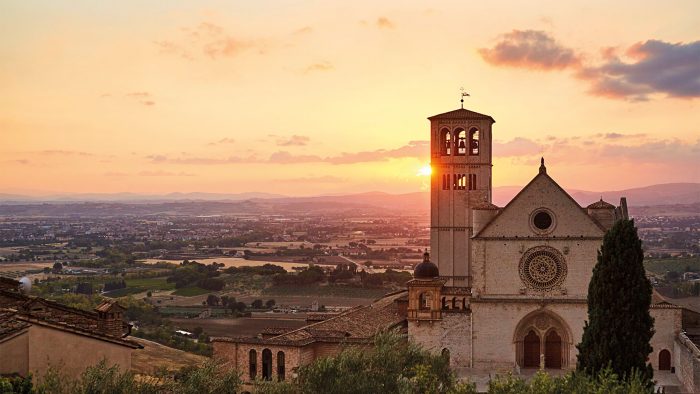 Umbria, the "green hearth of Italy": half way between Florence and Rome, Umbria is a land able to assemble a thousand facets and a thousand different souls into a single fresco, a blend of man and nature, intense spirituality and secular pride. Every location has a unique identity, the results of millennia of civilisation that have left dense layers of memory and timeless masterpieces throughout the land: Umbrian, Etruscan and Roman first and the extraordinary period of the Middle Ages, and then the Renaissance.
Dotted with medieval towns and silent hermitages, the Umbrian hills offer fascinating sceneries. In Umbria you need to travel a few kilometres to discover places of unspoilt wilderness, with centuries-old beech woods, deep caves, and mountains popolate by ancient legends. And, of course, the water: it rises in springs and mountain lakes, runs in rivers thst carve impressive rocky gorges, and broadens out into wetlands and man-made lakes that are magically transformed into nature reserves.
Lago Trasimeno -Italy's fourth-largest lake- and Cascata delle Marmore – highiest waterfalls in Europe – all seems to have been created intentionally to inspire poets and painters.
Assisi, one of the most beautiful Medieval hilltowns in all of Italy, with Unesco-listed Basilica di San Francesco, home to one of Italy's most celebrated artistic masterpieces.
Discover Gubbio, Todi, Spello, Perugia, and explore the underground of Orvieto sitting on its majestic tufa cliff. The world famous Montefalco, called "The Balcony of Umbria", with its Sagrantino vineyards and wine. Norcia's famous truffles, Perugia's historic chocolate, the best italian extra virgin organic olive oil, wine, cheeses…
Umbria has some of Italy's best cuisine. Food lovers have various ways you discover and enjoy the essence of the territory. In many Umbrian restaurants you can find cooking classes to try your hand at making traditional dishes or join a wine tour stopping at some of the best wineries in the area.
With over 1000 cashmere producers, Umbria is considered the Cashmere Valley The ceramics of Deruta are world renowned. Gualdo Tadino is home to the Umbrian Ceramic Centre and the Museum of Contemporary Ceramics. Perugia, Città di Castello – which hosts the Tela Umbra, Textile Collection – Orvieto and Montefalco all feature the production of fine fabrics, amongst the best in Italy. Glass-making is typical of Piegaro, with its unique Glass Museum located in the center of the village.
Right on the border of famed Tuscany, also you can easily reach, the ancient clay hills of the Val d'Orcia, visiting Siena, the wineries of Montalcino or Montepulciano, San Sepolcro, Cortona and much more…